The Silverstone circuit has always been one of the most anticipated events of the entire Formula 1 championship. The long, fast corners put various components of the car to a difficult test, from aerodynamics to mechanics, and especially the tires. Let's take a look at the rear wings chosen by the teams for the Silverstone circuit in this comparison.
Ferrari focuses on the new floor
While waiting to see the rear wings of other teams, let's analyze those chosen by Scuderia Ferrari, Mercedes, Red Bull, and Alpine. As we know, the English circuit requires a medium-high level of downforce to be effective in the fast corners of Silverstone. For this event, Ferrari is betting on the medium-downforce single-pillar wing, characterized by a spoon-shaped mainplane to be more efficient near the endplates.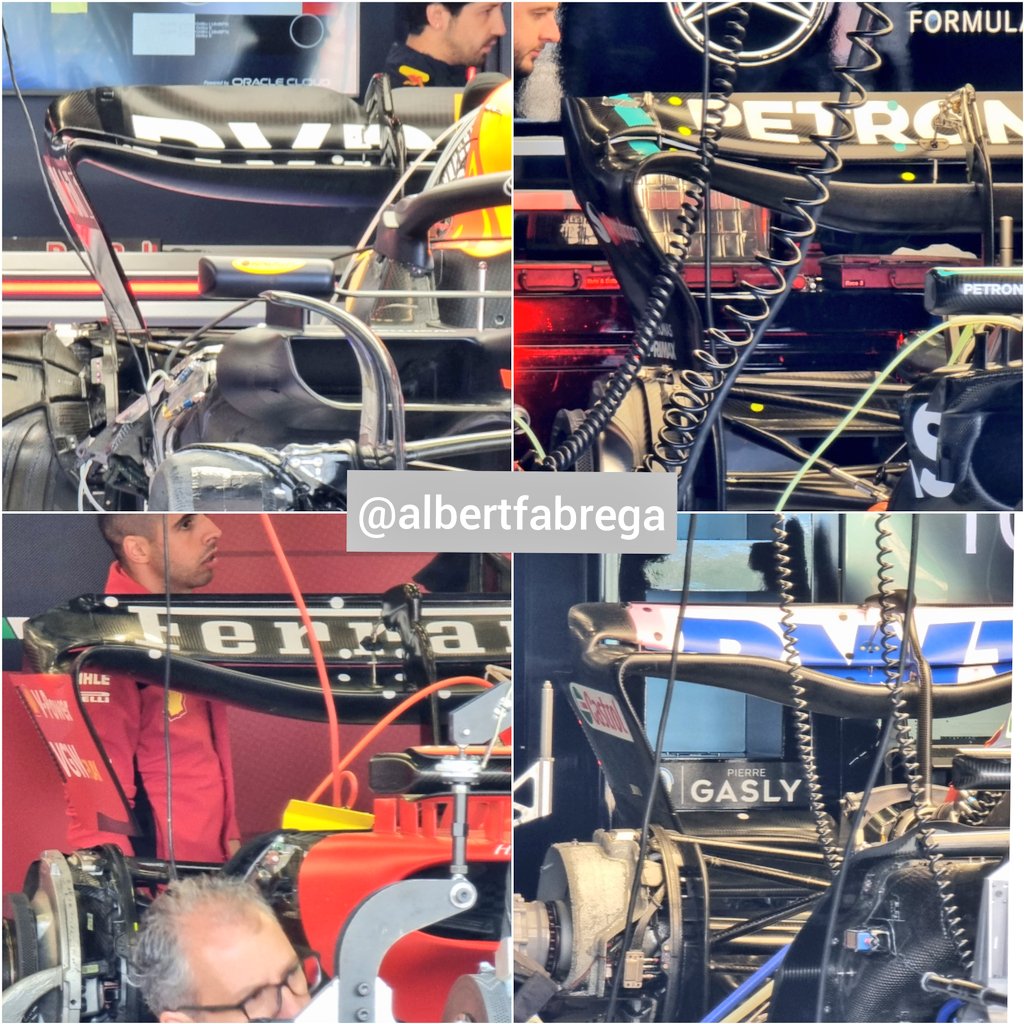 Among the four teams, Ferrari's wing has a rather pronounced Gurney flap. In this image, we don't see the beam wing, which could undergo updates for this race. Moving on to the reigning world champions, the RB19 adopts a higher downforce rear wing compared to the one installed on the SF-23. This specification will certainly make the rear of the Red Bull more stable, allowing the two drivers to tackle the fast sections of the track aggressively.
Turning to Mercedes, the W14 uses the Barcelona wing characterized by a significantly loaded main profile in the center. In fact, it can be seen that the chord length of the mainplane is the longest among the group and has a rather pronounced curvature to maximize downforce. The spoon-shaped profile is still present, which "unloads" the wing near the endplates to improve aerodynamic efficiency.
Among the four teams, Alpine has the least pronounced spoon-shaped main profile. Like the others, the aim is to generate downforce in the center of the car and be more efficient at the wing's edges. Similar to Scuderia Ferrari, the A523 also adopts a Gurney flap but of smaller dimensions than the one installed on the SF-23.
Show your support for Scuderia Ferrari with official merchandise collection! Click here to enter the F1 online Store and shop securely! And also get your F1 tickets for every race with VIP hospitality and unparalleled insider access. Click here for the best offers to support Charles and Carlos from the track!

Ferrari's choice seems to be oriented towards better efficiency rather than generating maximum downforce. This could be a disadvantage in long, fast corners such as Copse and the Maggots, Becketts, Chapel sequence. We will see if the updates introduced in Spain and Austria, as well as the possible new diffuser at Silverstone, will allow the Maranello to be competitive on the British circuit in the next round of the 2023 Formula 1 championship.
Source: f1ingenerale