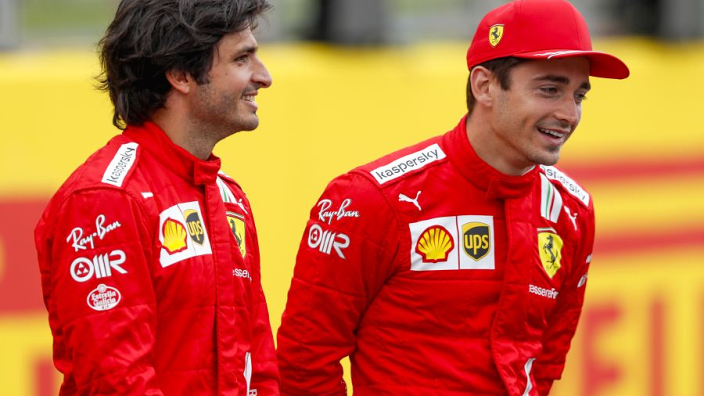 Scuderia Ferrari Monegasque driver Charles Leclerc confirmed that his off-track relationship with teammate Carlos Sainz is helping the Italian side and has 'pushed Ferrari forward' as the team looks to get back on track after the disappointing 2020 Formula One season, which due to several factors and unexpected circumstances turned out to be Ferrari's worst season since 1980.
Ahead of the current championship, Ferrari opted to replace Sebastian Vettel with Spanish driver Carlos Sainz. The Maranello team can be partially happy with its progress, as the team sits third in the constructors' standings, engaged in a close battle with rivals McLaren for the "best of the rest" spot. At the end of the first part of the season, Carlos Sainz is sixth in the standings with teammate Charles Leclerc seventh with just three points separating the two Maranello drivers.
"It is going very well. We are very competitive and when we put the helmets on, we absolutely want to beat one another. But on the other hand, we know how to work together whenever we are outside the car and this is great to see. It is great for us because it pushes us forward and pushes the team forward." – Charles Leclerc explained.
Away from the track, Charles Leclerc revealed he and Carlos Sainz also remain competitive in their other activities, with the two spending a large amount of time together.
"The dynamic is very good and outside of the car, we have got a lot of interests that we share which is golf, paddle, chess which is now quite a big thing. We are as competitive as we are on track with those things so I am enjoying it." – the Monegasque driver concluded.