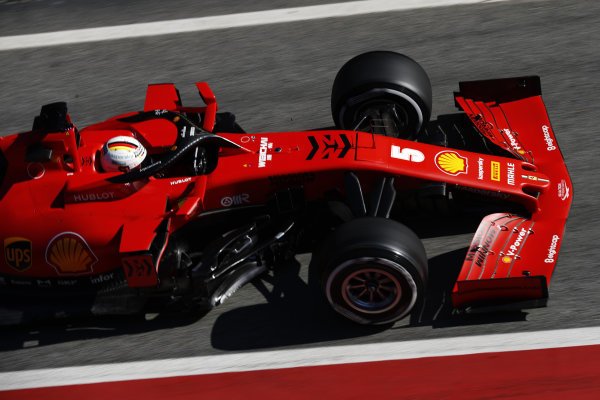 Scuderia Ferrari German driver Sebastian Vettel reckons Mercedes' new DAS system is most likely "legal", otherwise why would the team to be running it.

Mercedes debuted the dual axis steering system at the Circuit de Catalunya on Thursday.

Onboard footage of Lewis Hamilton showed the Brit pushing and pulling his steering wheel, which controlled the toe at the front. While Mercedes have not given away any secrets it is thought that such a system would not only aid the car entering corners but also act as a drag reduction system down the straights.

Added to that, changing the toe would also go a long way towards minimising tyre wear. Mercedes say the system is legal and the FIA is aware of it.

"It's a new system," Mercedes tech chief James Allison told the media. "We call it DAS.

"It opens up additional possibilities and creates a new dimension in steering. It will benefit the driver throughout the season.

"This isn't new to the FIA. We're talking to them for some time now.

"The rules are pretty clear about what's prevented on steering systems and we're pretty confident it matches all of those requirements."

However, Red Bull's Helmut Marko says it can't be legal.

Explaining why, he told Auto Motor und Sport: "If you actively change the toe of the wheels while driving, the contact surface of the tyres changes

"It is probably not as easy for the driver to use as it seems. We'll see.

"It is certainly new for everyone."

Asked whether Scuderia Ferrari may look to design its own DAS system, Sebastian Vettel conceded that may be easier said than done.

"I don't how easy it is to copy DAS, I don't think it's that simple. It seems very strange to me to use a steering wheel in that way with the feeling that it comes off. I think it makes more sense for the driver to keep his hands on the steering wheel." – the German driver explained.