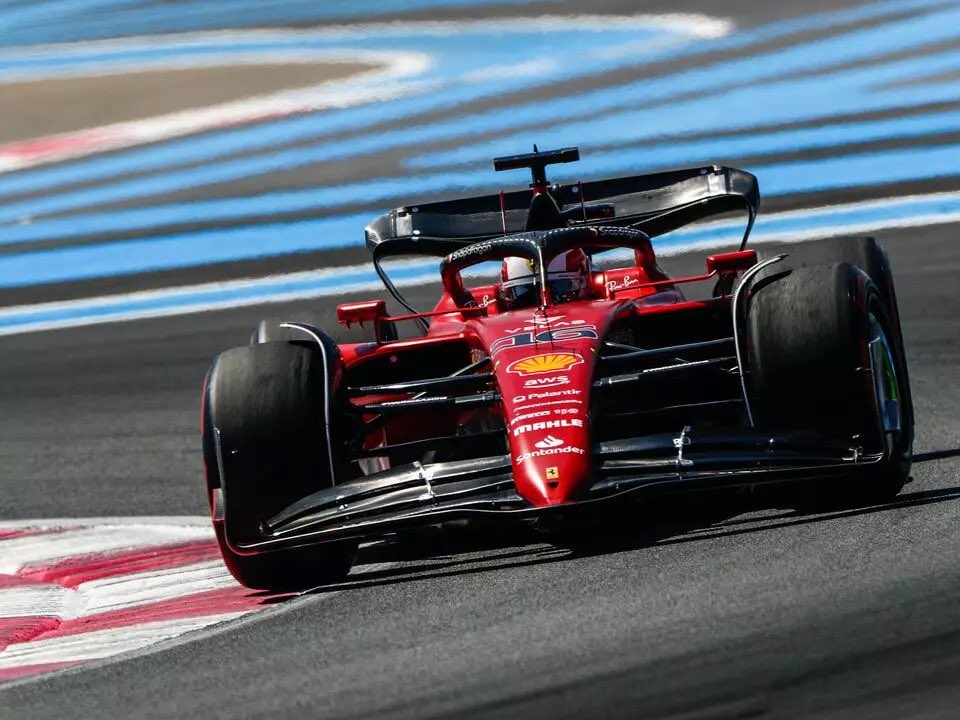 Charles Leclerc vs Carlos Sainz, telemetry analysis:
Charles Leclerc's best lap time in the second free practice session for the French Grand Prix came on the second attempt with the same tire, just like the best lap time of Carlos Sainz. This alone is a sign that tyre degradation isn't that bad on the Ferrari F1-75 cars. Compared to FP2 engine mode is closer to the same one as Red Bull Racing, but it's still not full beans on Charles Leclerc's car.
The third sector continues to be a real struggle for Max Verstappen, braking is much earlier, T10 (4200m) is just very slow mid corner, he has to use the brake a lot more and is off throttle for the whole corner while Charles Leclerc is on the throttle all the corner except for apex. Also in T1 (500m) Ferrari can use the throttle more and goes through that corner 5kph faster on average and 6kph faster min speed.
Top speed advantage for Red Bull, probably due to engine but also the lower downforce wing, was among the highest gaps in the last races at 6-7kph.
Car strengths and weaknesses appear unchanged between FP1 and FP2
Charles Leclerc vs Carlos Sainz, single lap comparison
Pretty identical laps but Carlos Sainz does just slightly better in T5-6 (1300m) which sets him up well for the rest of S2. S1 and S3 have a combined difference of 0.013 between the 2 in favor of Charles Leclerc.
Both cars on their second attempt on the soft, showing actually somewhat normal tyre degradation. Max Verstappen tried to best his lap on 2nd attempt but couldn't. Carlos Sainz really doing good with his laps, but since Monaco he's been really good and just about getting closer and closer to Charles.
Race Sims top 5
Very impressive race sim for Red Bull. Mercedes has older Mediums so their pace isn't that bad actually, but they aren't on the same level as Red Bull.
Ferrari seemingly with bad race pace, although Charles Leclerc had some laps in the middle that were compromised by traffic, laps 3-4-5-6. Lap 2 to lap 7 for Charles show similar degradation as to what Red Bull saw with Verstappen. So why is Ferrari slow? Same story as FP1. Ferrari isn't pushing the engine in the race sim and losing quite a lot of time in the straights, speed advantage in corners for Ferrari is still all there, a sign that tyres haven't degraded too much.