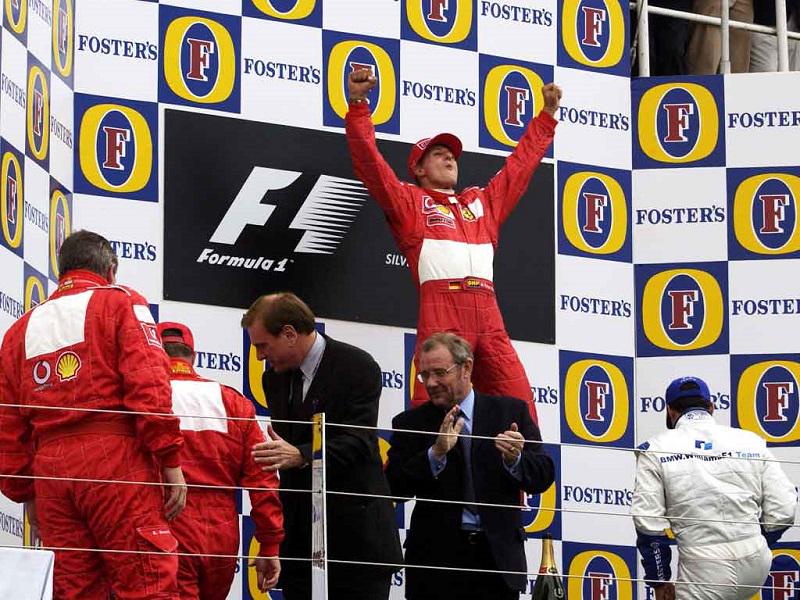 Along with the Italian Grand Prix, the British Grand Prix is the only event never to have missed a year on the Formula 1 calendar. For years now it's been held on the historic Silverstone circuit, now 5.891 kilometres long, based on what used to be the perimeter roads of a military airfield. The first ever Formula 1 Grand Prix was held here on 13 May 1950. Alfa Romeo took a clean sweep of the top three places, watched by King George VI.
The weather generally plays a part: even if it takes place in the height of summer, there's always a reasonably high chance of rain. The 2010 layout has been changed significantly, with the introduction of the new Wellington Straight, while the start-finish line has been moved to just after Club corner. However, left untouched are the famous Copse, Becketts and Stowe corners, which remain very quick and technically demanding. Ferrari has won in the UK 17 times, the first courtesy of José Froilan Gonzalez in 1951, which was the Maranello team's first ever Formula 1 win, while the last came in 2018 with Sebastian Vettel.
WELLINGTON STRAIGHT
There is no lack of passing places at Silversone, but after the layout was changed, one of the best became this new straight, where the use of DRS is made available.
FINISH LINE (OR PIT LANE)
In the 1998 event at Silverstone, Michael Schumacher made histoy here: the German Ferrari driver won a chaotic race having taken a stop and go penalty coming into the pit lane on the very last lap.
FERRARI STATS SINCE 1950
17 RACE WINS
15 POLE POSITIONS
21 FASTEST LAPS
57 PODIUMS
HALL OF FAME
| YEAR | DRIVER | MODEL |
| --- | --- | --- |
| 1951 | Gonzalez | 375 F1 |
| 1952 | Ascari | 500 F2 |
| 1953 | Ascari | 500 F2 |
| 1954 | Gonzalez | 625 F1 |
| 1956 | Fangio | D50 |
| 1958 | Collins | 246 F1 |
| 1961 | Von Trips | 156 F1 |
| 1976 | Lauda | 312 T2 |
| 1978 | Reutemann | 312 T3 |
| 1990 | Prost | F1-90 |
| 1998 | Schumacher | F300 |
| 2002 | Schumacher | F2002 |
| 2003 | Barrichello | F2003-GA |
| 2004 | Schumacher | F2004 |
| 2007 | Raikkonen | F2007 |
| 2011 | Alonso | Ferrari 150° Italia |
| 2018 | Vettel | SF71H |
HALL OF FAME
| YEAR | DRIVER | MODEL |
| --- | --- | --- |
| 1951 | Gonzalez | 375 F1 |
| 1952 | Farina | 500 F2 |
| 1953 | Ascari | 500 F2 |
| 1961 | Hill | 156 F1 |
| 1971 | Regazzoni | 312 B2 |
| 1972 | Ickx | 312 B2 |
| 1974 | Lauda | 312 B3-74 |
| 1976 | Lauda | 312 T2 |
| 1983 | Arnoux | 126 C3 |
| 1988 | Berger | F187/88C |
| 1990 | Mansell | F1-90 |
| 2000 | Barrichello | F1-2000 |
| 2001 | Schumacher | F2001 |
| 2003 | Barrichello | F2003-GA |
| 2012 | Alonso | F2012 |