Catalunya Circuit Details
Location:
Spain, Barcelona
Event:
Spanish Grand Prix
Used Since:
1991
Type:
Closed Circuit
Lap Dist.:
4.655 km
| | |
| --- | --- |
| Lap Record: | 1:18.183 min |
| Date: | 17 August 2020 |
| F1 Driver: | Valtteri Bottas |
| F1 Car: | Mercedes W11 |
| Speed: | 214.343 km/h |
| | |
| --- | --- |
| Record Pole: | 1:14.648 min |
| Date: | 14 May 2006 |
| F1 Driver: | Fernando Alonso |
| F1 Car: | Renault R26 |
| Speed: | 224,494 km/h |
Circuit de Catalunya Layout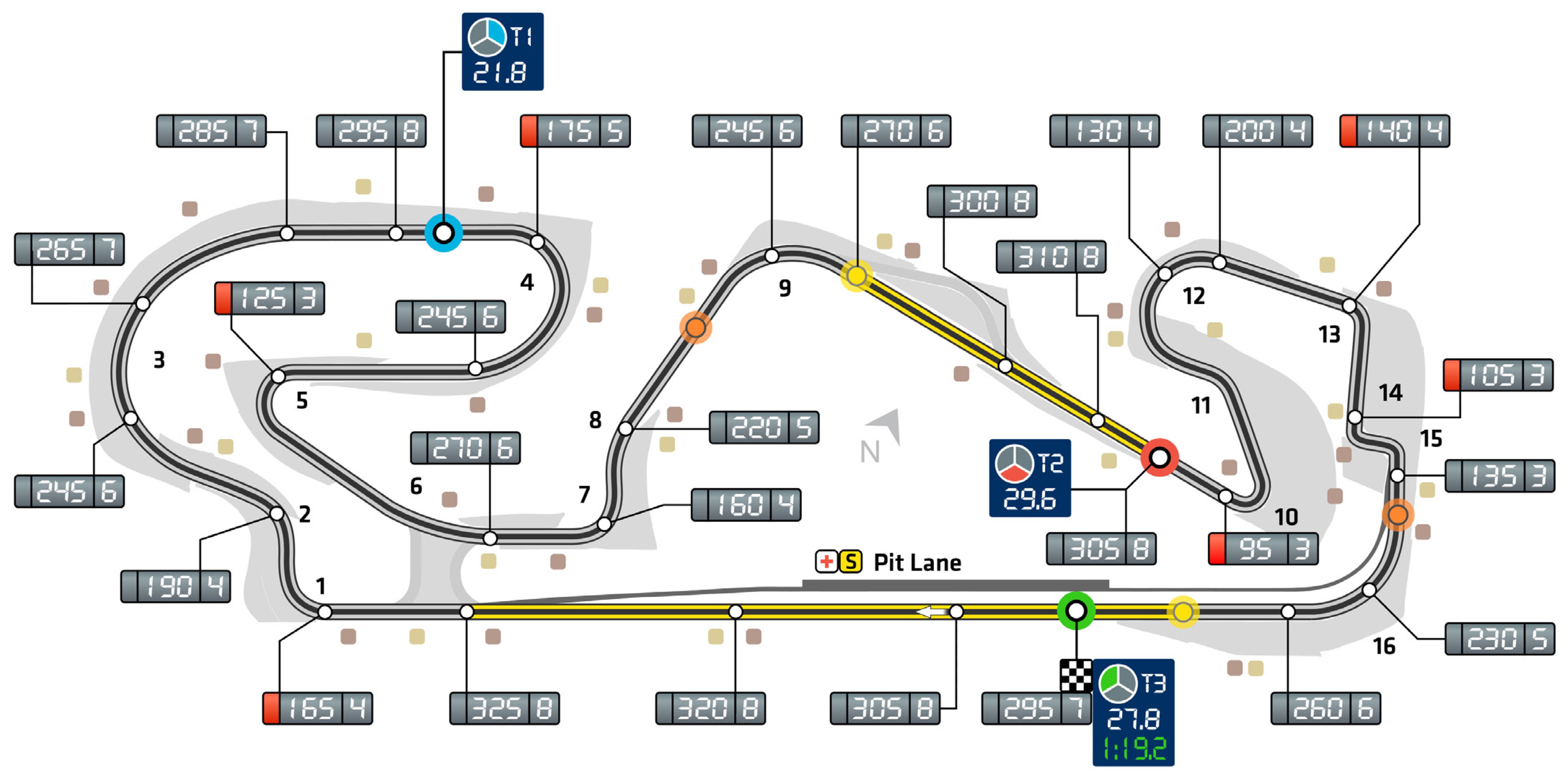 Circuit Circuit de Barcelona-Catalunya in Spain has hosted 31 Grands Prix between 1991 and 2021.
With 6 wins Michael Schumacher is the most succesful driver at this track. Constructor Ferrari does best with a total of 8 victories at Circuit de Barcelona-Catalunya.
The pole position record at this track belongs to Michael Schumacher with 7 poles
Starting from pole position seems important here, since 71% of all races was won from pole.
The Circuit de Barcelona-Catalunya is a motorsport race track in Montmeló, Barcelona, Catalonia, Spain. With long straights and a variety of corners, the Circuit de Barcelona-Catalunya is seen as an all-rounder circuit. The track has stands with a capacity of 140,700. The circuit has FIA Grade 1 license.
Until 2013 the track was known only as the Circuit de Catalunya, before a sponsorship deal with Barcelona City Council added Barcelona to the track's title.
Statistics
events:
31
winners:
16
pole sitters:
16
most succesful drivers:
Michael Schumacher (6 wins)
Lewis Hamilton (5 wins)
Mika Häkkinen (3 wins)

most succesful constructors:
Ferrari (8 wins)
Williams (6 wins)
Mercedes (6 wins)

won from pole:
22x (71%)