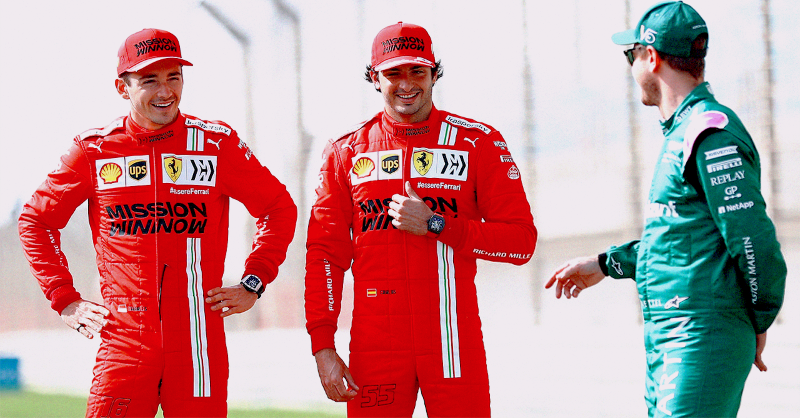 Scuderia Ferrari Monegasque driver Charles Leclerc has highlighted the differences between current and former Maranello team-mates Carlos Sainz and Sebastian Vettel.
Charles Leclerc and Carlos Sainz have formed a strong bond on and off the track this season as the team aims to dethrone McLaren from third after the Italian side endured its worst campaign since 1980 last year. Charles spent two years alongside Vettel at Ferrari before the German was dropped, and along with former Sauber partner Marcus Ericsson, Leclerc was asked on the Beyond the Grid podcast who his best team-mate had been in F1.
"It is a difficult question. Carlos is a very very good team-mate. I wouldn't know between Seb and Carlos. Seb in his good days – the last year was more difficult for Seb – but in his good days, he was just incredible and just incredibly difficult to beat, if not impossible. Carlos is just very very consistent. It is different approaches but both of them are very very strong. With Seb, it was a bit of a different relationship. With him, I saw him like more of an older brother. He had so much experience that it was different. It was not the same type of competition that I had with Seb than what I have had with Carlos. With Carlos, we are more or less at the same age, we are so competitive with everything, but Seb had more experience so he was a little bit less competitive with everything. If I wanted to win something, he would basically let me win this thing and I would be happy and he wouldn't care. With Carlos it is different. I can see he is so p****d off if I am beating him at anything. It can be the stupidest thing but he will be so angry, the same for me." – the Monegasque driver explained.
Carlos Sainz "easy to get on with"
Despite the majority of drivers that made a switch of teams over the winter struggling in the early stages of the season, Carlos Sainz was able to hit the ground running at Ferrari and sits just 12 points adrift of Charles Leclerc in the standings.
"He is just a fun guy, a nice guy and very easy to get on with," explained Charles when asked about the Spaniard – "The way he works is his biggest strength. He is a very clever guy and he really knows how to build up the weekend. He is very good at building up the weekend from free practice to the race, working well on the car and the very important points of the car, not really looking for the lap time until it really matters in qualifying. He is always there, very consistent." – he concluded.