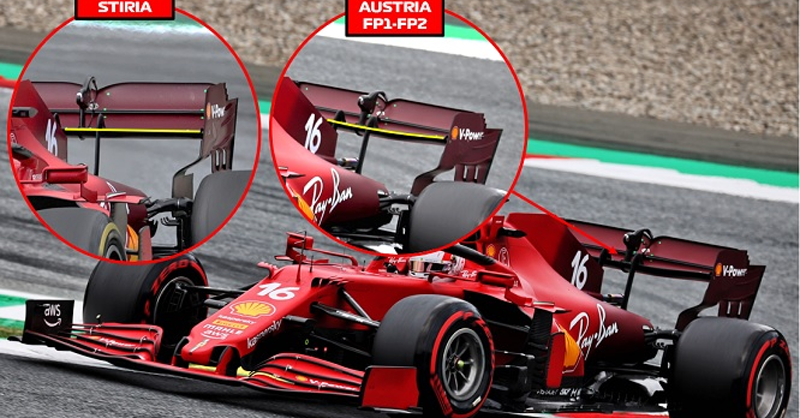 For the 2021 Austrian Grand Prix, Scuderia Ferrari has adopted a more lower downforce configuration set-up than in the previous race, recognizable by the rear wing. After the excellent race pace shown in the Styrian Grand Prix, the Italian side decided to try a set-up aimed at improving qualifying performance, in an attempt to gain positions on the starting grid closer to Lando Norris' McLaren. The choice of trying to pass the Q2 cut with the medium compound, contrary to what was done last weekend at the Red Bull Ring, prevents us from assessing whether there have been any real improvements on the flying lap, since both SF21 cars were excluded from the final part of qualifying.
However, what is most worrying is not the elimination, considering that the Aston Martins and the AlphaTauri have passed the cut using the soft compound, but the position behind the Williams driven by a masterful Russell, who in Q2 also used the medium compounds.
On the eve of the race there are several possible variables, including the potential rain. According to forecasts, there is in fact the possibility of rain during the race, although the percentages are somewhat indefinite considering the extreme variability that has characterized the Styrian climate for the entire weekend. In case of dry weather, however, the strategy is still uncertain, although the drivers believe that a double stop is the most probable choice, contrary to the Pirelli recommandations.
Much will also depend on the temperatures, which should be much lower than on Saturday, when the asphalt reached 50 ° C, almost 20 ° C more than on Friday. The step of softer compounds brought by Pirelli also seems to favor even more the drivers who will start with the medium tire or who will instead be able to evaluate whether to start with the hard, a decision that will certainly be carefully considered at Ferrari, to try to gain several positions and score some points in the Austrian Grand Prix.