Michael Schumacher did some magical things in Formula 1 cars – of that there is no doubt. But, as with any great driver, there are some moments that transcend more than others, moments where all that greatness is focused through a prism and out onto the racetrack:
The final fling for Ferrari – Brazilian Grand Prix 2006
There was a lot going on for Michael Schumacher when he turned up to the 2006 Brazilian Grand Prix. It was set to be his final race for Ferrari, and his final race in Formula 1 – and yet a win for the German, if Fernando Alonso failed to score, would have given him a record-expanding eighth title. A fuel pressure issue at the start of Q3 left Schumacher down in 10th on the grid, while a puncture on lap nine eviscerated those dimming championship hopes. But the indefatigable Schumacher gave the Scuderia and their tifosi something special in his final appearance for the team, blasting back from P20 to P4 by the race end, having unleashed a series of bold overtakes as he clawed his way through the field.
Michael Schumacher's years of seemingly robotic brilliance at Ferrari tended to make people forget what a great racer lurked underneath that famous helmet. Brazil '06, in his last outing in red, was a fantastic reminder.
Metronomic brilliance in Budapest – Hungarian Grand Prix 1998
Ross Brawn opting to run a three-stop strategy at the 1998 Hungarian Grand Prix in a bid to defeat McLaren was clever, bold… and utterly sadistic. Basically, in the muggy Hungarian heat, Brawn was asking his driver to bash out qualifying laps for an hour and 45 minutes to make the strategy viable. Fortunately for Brawn, his driver was Michael Schumacher, with Ferrari's technical director able to call on all of the German's exceptional speed and stamina to help topple their rivals. Schumacher executed the strategy to a tee to take one of his most emotional victories, and help bring himself back into title contention – for that moment, at least – with Mika Hakkinen.
The brain of Brawn and the brawn of Schumacher working in perfect harmony. You can see why they were such a potent partnership…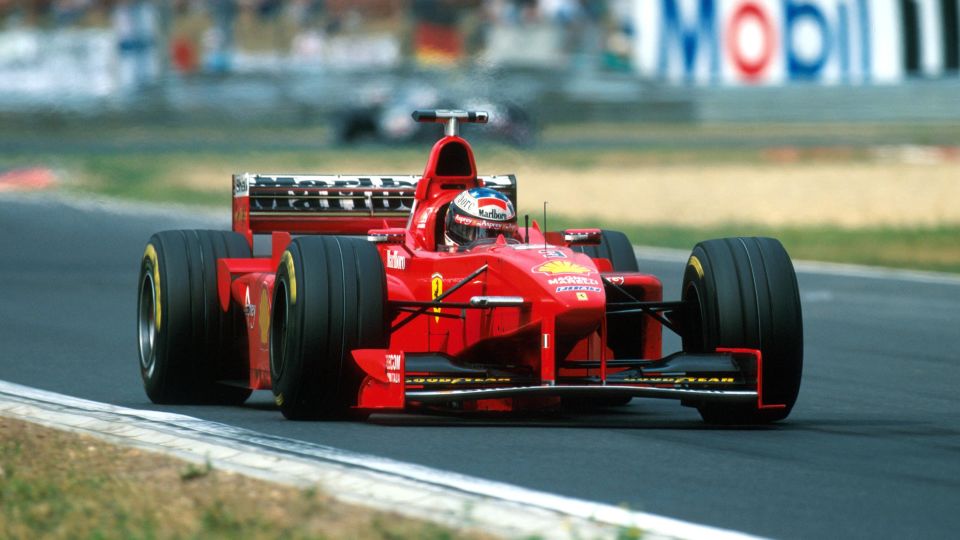 A crushing return – Malaysian Grand Prix 1999
Just under 100 days after breaking his fibula and tibia at Silverstone, Michael Schumacher was back in a Ferrari – and straight back on the pace. Having missed six races, Schumacher knew that his job at the first ever Malaysian Grand Prix was to shepherd Ferrari's remaining title contender, Eddie Irvine, to the win… but that didn't mean he couldn't have a little fun first. In qualifying, rather than playing himself in gently, Schumacher grabbed his F399 by the scruff of the neck and wrestled it around the newly-laid Sepang track almost a second faster than anyone else, in what was a staggering return display. Come the race, an obedient, loyal Schumacher then played the unfamiliar 'Number Two' role impeccably, allowing Irvine to slip through for the lead and then toying with his rivals behind as he yo-yoed out the gap between them at will.
Okay, so Irvine got to enjoy his day in the Malaysian sun. But Schumacher's stunning performance on Saturday after months out of the car left no one in any doubt that the big dog at Ferrari was back.
The best wet drive of all time? – Spanish Grand Prix 1996
They say a beautiful F1 car is often an effective one – but the opposite can be true as well. The 1996 Ferrari F310 had looks only a myopic mother could love – and its on-track performance wasn't much better. "I said to Michael [after the car was launched], 'This thing looks worryingly different from everybody else's car,'" remembered Eddie Irvine years later. "And it was. It was just a disaster. That year, [Michael] did an amazing job to drive that thing, because it was a piece of junk." Junk or not, the torrential rain at the 1996 Spanish Grand Prix played perfectly into Schumacher's hands. Having qualified a distant third to Damon Hill's Williams in the dry on Saturday, on the stinkingly wet Sunday, Schumacher was mesmeric, launching into arguably one of the single greatest drives in Grand Prix history to win out by over 45 seconds from closest rival Jean Alesi.
A truly shimmering performance that comfortably ranks alongside the best of Fangio, Clark, Stewart, Senna et al…