Among the variables that can determine the outcome of a race, the choice of the right strategies is certainly one of them. Let's take a look at what Pirelli predicts for the 2023 Formula 1 Spanish Grand Prix, which takes place later today at the Circuit de Barcelona-Catalunya.
According to Pirelli's forecasts, a two-stop strategy is expected for today's race. The fastest strategy should involve starting with the soft tire and then switching to the hard tire twice. In this case, the window for the first pit stop is between the thirteenth and eighteenth lap, and the second pit stop between the thirty-seventh and forty-third lap.
An alternative could be to start with the soft tire, then switch to the hard tire before finishing the Grand Prix with the soft tire again. If teams opt for this strategy, the pit stop window would be pushed back by a few laps, between the fifteenth and twentieth lap, and between the forty-sixth and fifty-first lap.
The third possibility, although slower compared to the others, involves starting on the hard tire, switching to the hard tire around the fifteenth lap, and then finishing on the medium tire.
For the Spanish Grand Prix, official tyre supplier Pirelli has also provided a fourth option called "aggressive." This strategy involves three pit stops, starting on the soft tire, switching to the hard tire, and then a double stint on the soft tire towards the end.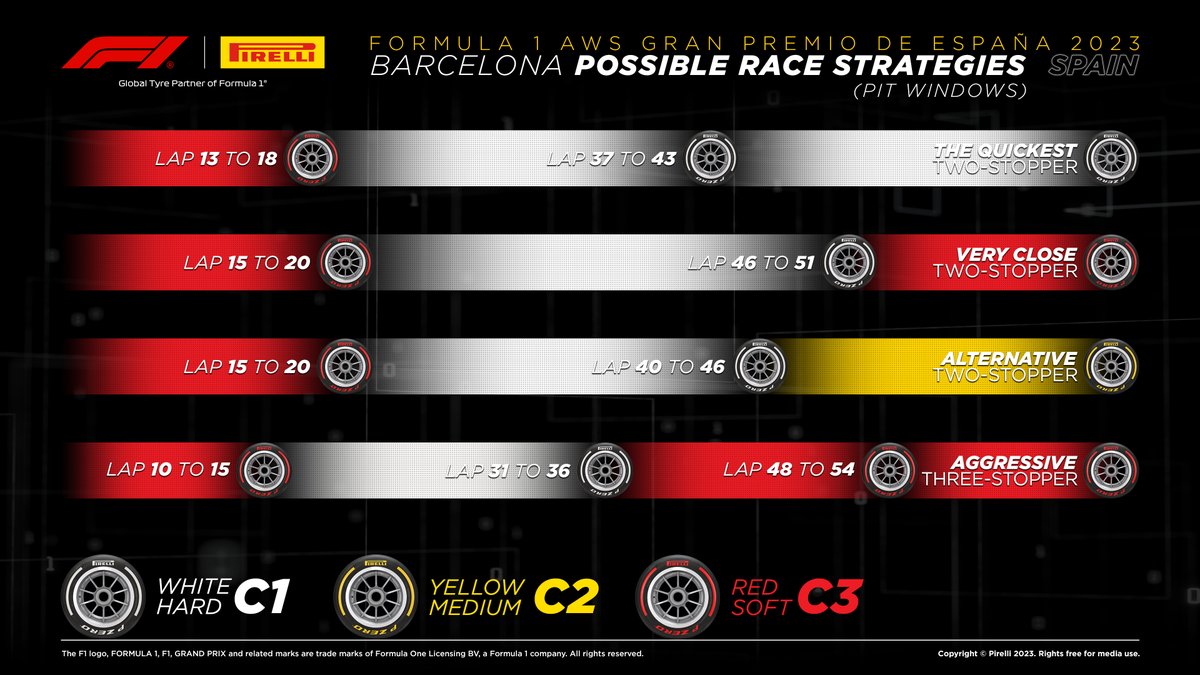 It should be noted that for the Baku weekend, Pirelli decided to bring the hard C1, medium C2, and soft C3 compounds to the track. These are the sets of tires still available to the teams.