Scuderia Ferrari Monegasque driver Charles Leclerc lives in sunny and warm Monte Carlo and this maybe added to the glacial challenge of having to undergo a session of cryotherapy.
Formula 1 drivers, just like many other athletes, continually take part in a variety of physical activities during training and practices, not the mention that F1 is one of the most physically and mentally demanding sports on the planet. During a Formula 1 Grand Prix, a driver is exposed to up to five times gravity pushing down on them, making it harder to breathe, pump blood around their body and move their arms and legs. And, of course, with physical activity comes the possibility of injuries, ranging from mild to severe
As a result, Formula 1 drivers use the -120 degree Celsius cold compression chamber as a biting two-minute post-exercise recovery procedure which helps relax overworked muscles. Cryotherapy provides numerous benefits to those seeking to quickly recover from injuries or reduce overall strain and fatigue from strenuous activity and exercise.
Charles Leclerc posted on Instagram a photo taken during his most recent icy session with the caption, "It's cold".
Mercedes' Lewis Hamilton was quick to post a reply, asking the Scuderia Ferrari driver: "How cold?", while the Monegasque then offered Hamilton the best reply:
"@lewishamilton as cold as the hard tyres in Barcelona winter testing 🥶"
Buzzy Cali-based menswear designer Doni Nahmias also joined the Instagram discussion.
See the Instagram exchange here: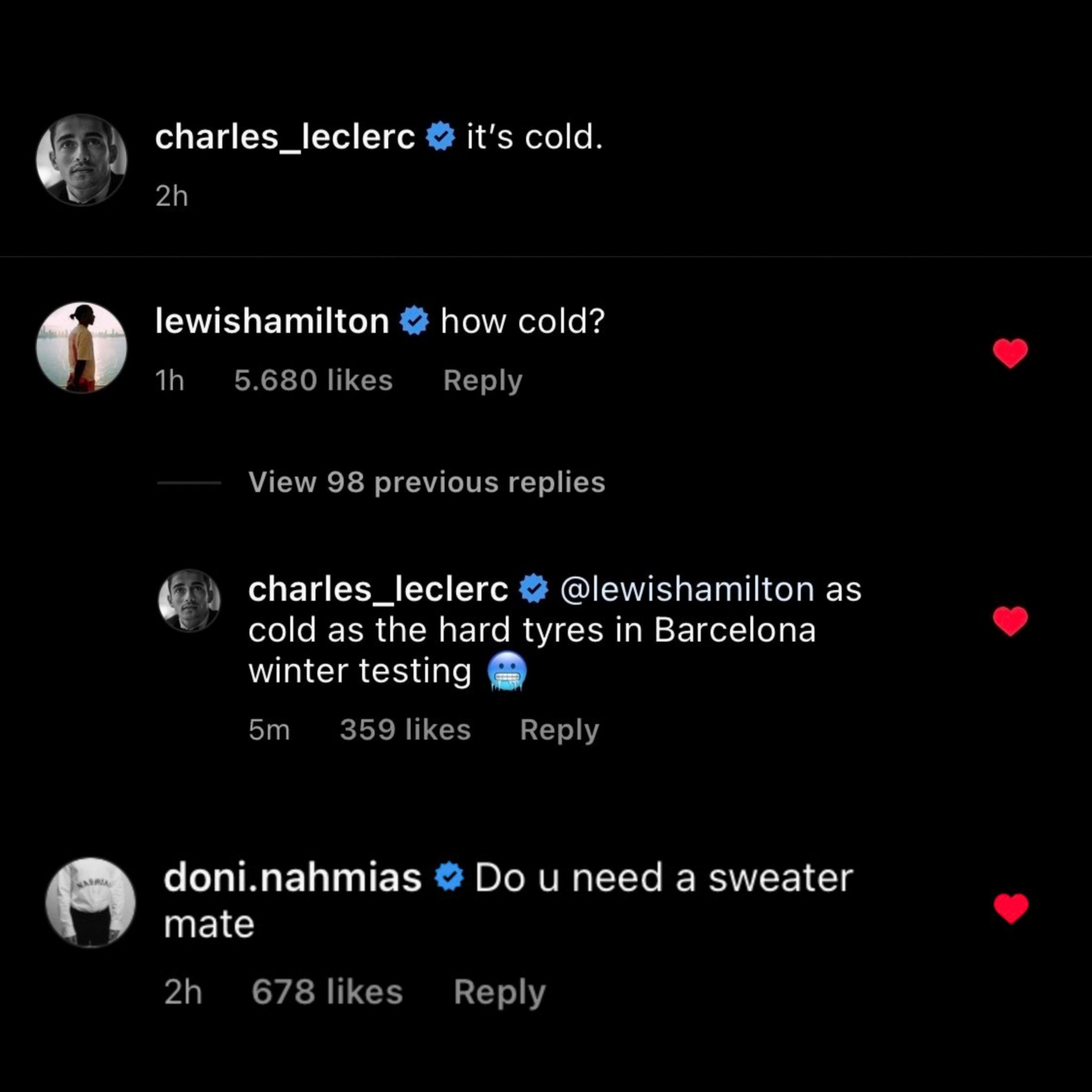 Show your support for Scuderia Ferrari with official merchandise collection from Puma! Enter the online Puma Store and shop securely! And get your F1 tickets for every race with VIP hospitality and unparalleled insider access. Click here for the best offers to support Charles and Carlos from the track!