New year, new sponsors: Scuderia Ferrari is preparing to experience a long-awaited Formula One season with various innovations regarding the portfolio of partners who have decided to join the Maranello team. In updated sponsorship list on the Ferrari official website there is a conspicuous white space between the title 'Scuderia Ferrari Official Partners' and the first 'premium' logos, a space that could therefore be reserved for a potential new title sponsor, a scenario that cannot be excluded despite the the fact that in the 2022 Formula 1 entry list, the Maranello team led by Mattia Binotto is registered with the simple content of 'Scuderia Ferrari'. In 2021 the latter was Mission Winnow, a brand currently missing from the list of partners, just like Ups and Weichai.
These three partnerships that are ending have already been replaced by the return of Santander (Ferrari sponsor from 2010 to 2017) and the new entry Velas. Amazon Web Services, on the other hand, had already entered as a sponsor during the 2021 campaign. Other brands such as Ray Ban, Richard Mille and Estrella Galicia have been confirmed for 2022, which together with AWS find space in the second row below the premium partners Santander, Velas and Shell. In terms of livery, the agreement with the Spanish bank suggests a white-red color for 2022.
Show your support for Scuderia Ferrari with official merchandise collection from Puma!
Comparing the list of sponsors in 2022 with that of 2021 through one of the official photos of the presentation for the SF21 car, in addition to the absences and new entries already highlighted, we note the passage of Kaspersky from the second to the third level. Puma remains the 'technical' sponsor to use a football comparison, just like the Bell brands for helmets and the Italian Sabelt for safety belts. Obviously also present were Pirelli and Brembo, other Italian excellences that continue to be protagonists in Formula 1.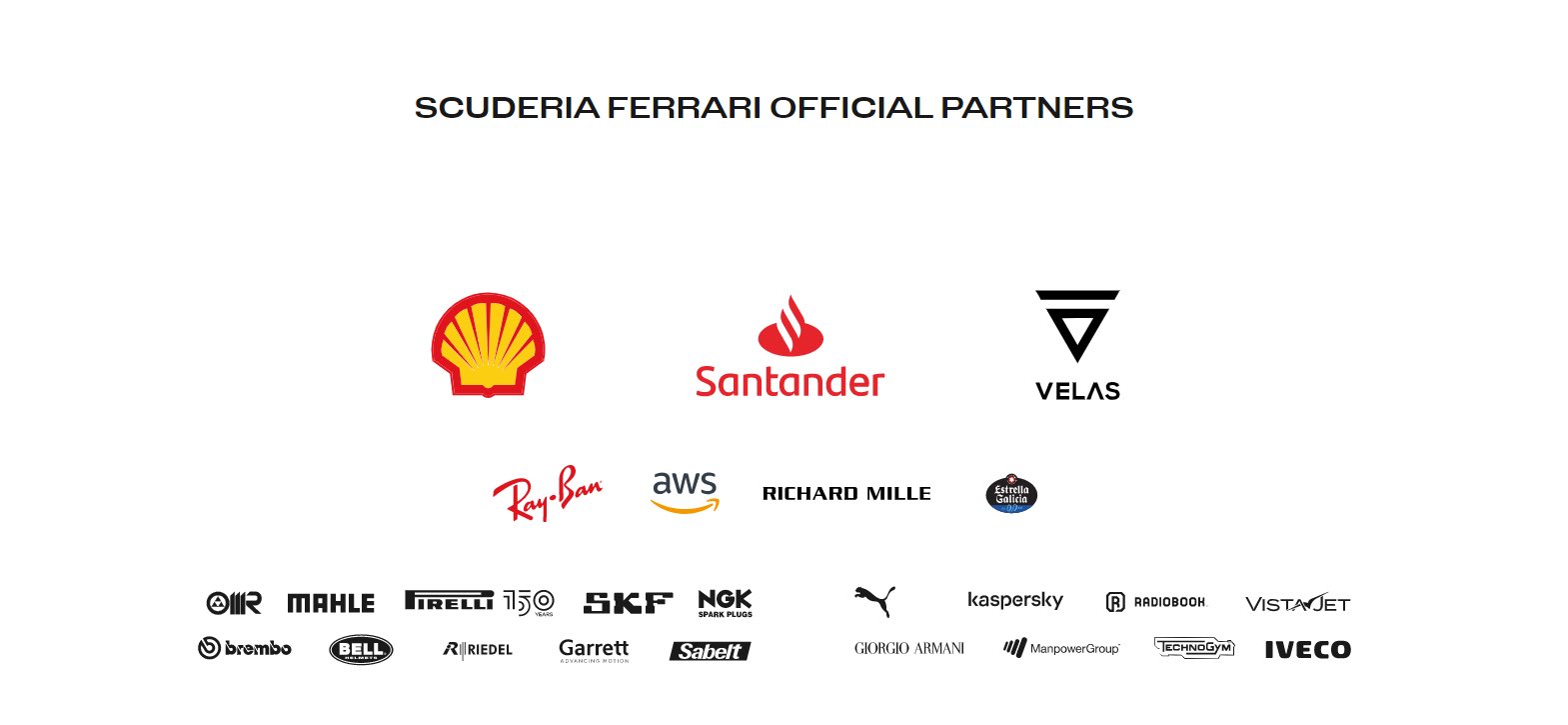 Scuderia Ferrari has also changed the driver pictures of Charles Leclerc and Carlos Sainz (without Mission Winnow logos now):