No time to feel sorry or regret over what could have been another win for Scuderia Ferrari last Sunday, as Formula 1 this week heads to the Gulf States for the 13th running of the Bahrain Grand Prix.
After two races from the 2017 Formula One season, Sebastian Vettel has proven that the Italian team is capable of fighting with Mercedes for the titles, by winning the Australian Grand Prix and failing to repeat the victory in China only due to a poorly timed Saftey Car in the first part of the race. Sebastian is equal on points with Lewis Hamilton, while Kimi Raikkonen is currently fifth in the Formula 1 Driver Standings and will try to improve and score his first podium of the championship.
Bahrain International Circuit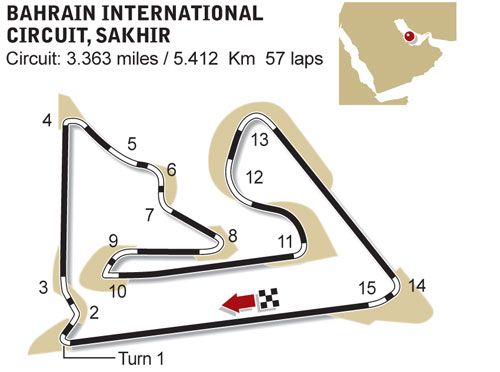 The Bahrain International Circuit was opened in 2004 and since then has been hosting the annual Bahrain Grand Prix. The track was designed by German architect Hermann Tilke, the same architect who designed the Sepang circuit in Malaysia and the overall cost reached almost 56.2 million Bahraini Dinars (US$150 million) in order to construct. The motorsport venue has six separate tracks, including a test oval and a drag strip
As it is surrounded by sand dunes, one of the major issues has been the presence of sand on the track, that can reduce tyre adhesion considerably as well as affect engines and other parts of the Formula One cars. Despite the fact that the organisers sprayed the surrounding sand with an adhesive to prevent it from reaching the track, they need to constantly sweep the surface of the circuit during a race weekend to create the ideal conditions for the F1 teams.
The facilities in Bahrain are obviously top class, but the heat means the only spectators are housed in the main stands, because an attempt to view the race from any other place would mean risking frying – and as a result the atmosphere on large sections of the circuit is too often very quiet. The track itself is made up of 20 slow to medium-speed corners, that leads to the necessity of Formula 1 teams using a set up to favour good traction.
Bahrain Grand Prix – Records and statistics




Wins (drivers):
Driver Nb
ALONSO Fernando 3
MASSA Felipe 2
VETTEL Sebastian 2
HAMILTON Lewis 2
SCHUMACHER Michael 1
BUTTON Jenson 1
ROSBERG Nico 1
Wins (teams):
Ferrari 4
Mercedes 3
Renault 2
Red Bull 2
Brawn GP 1
2017: Bahrain Grand Prix Timetable:
Press Conference – Press Room Thursday 15:00 local / 13:00 UK
Practice 1: Friday 14:00-15:30 local / 12:00-13:30 UK
Practice 2: Friday 18:00-19:30 local / 16:00-17:30 UK
Practice 3: Saturday 15:00-16:00 local / 13:00-14:00 UK
Qualifying: Saturday 18:00-19:00 / 16:00-17:00 UK
Race: Sunday 18:00 / 16:00 UK