Scuderia Ferrari German driver Sebastian Vettel admitted that he took to the podium celebrations at the Canadian Grand Prix against his free will, but out of respect for his rivals, having been robbed of victory in Montreal by a time penalty. Sebastian was deemed to have re-joined the track unsafely ahead of Lewis Hamilton, who went on to inherit victory. Vettel took a brilliant first pole position of 2019 and backed that up with a gritty race performance in the face of regular pressure from Hamilton, which saw him crack as he went off at Turn 4 and squirmed back onto the circuit, causing the Mercedes man to hit the brakes.
No contact was made and both continued on, but the stewards saw fit to punish Vettel, to widespread condemnation from F1 fandom and participants alike. Sebastian Vettel initially looked to be boycotting the podium as he went straight to the Ferrari motorhome, only to emerge soon after and join Hamilton and Charles Leclerc, but only after putting the second-place bollard in front of Hamilton's car below the rostrum.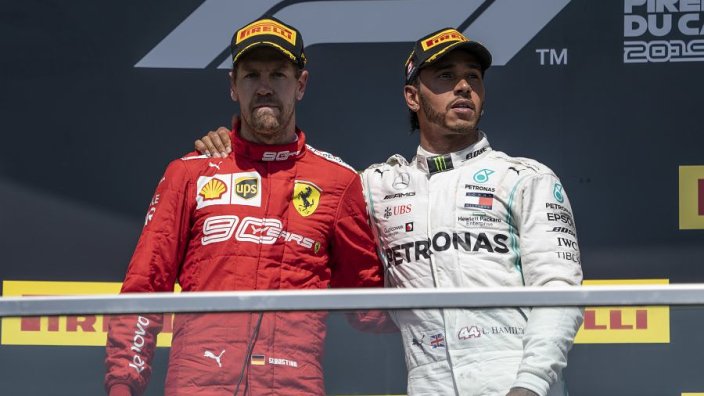 "I didn't want to join in with anything," he said. "I was angry and disappointed, I think everyone understands why – "But I think it's respect to show to Lewis and Charles [Leclerc] and the representative from Mercedes to be part of the podium. Certainly it's not the place I wanted to be, at that point I wanted to get out, being there is not of my free will but I had to be there."
A dejected Sebastian Vettel said the incident was the latest in a trend of occurrences that were dulling his own passion for the sport: "I'm not happy about all this complaining and stuff that we see so many times. It's racing. It's common sense. In this regard, I disagree with where the sport is now. We have all this wording – I gained an advantage, I didn't gain an advantage, I avoided a collision, all this – I just think it's wrong. It's not really what we're going in the car. Nowadays I don't like it. We all sound a bit like lawyers using the official language and I just think it gives no edge to people and no edge to the sport. Ultimately it's not the sport I fell in love with when I was watching [as a child]." – Scuderia Ferrari German driver Sebastian Vettel concluded.