The 2017 Chinese GP will be the second race of the Formula One season and will take place at the end of the week in Shanghai, on the Shanghai International Circuit.
Circuit info
The new track in China was designed by the renowned German engineer Hermann Tilke to be a circuit for the new millennium, with impressive spectator facilities and a media centre that spans the start finish main straight – on opening it was billed as the venue all others should aspire to. It features Tilke's trademark long straight followed by a tight hairpin.
When completed back in 2004, it was the most expensive Formula One circuit facility, costing $240 million, funded by a government-backed joint-venture company. In September 2007, the former manager of the circuit Yu Zhifei was convicted of embezzlement in a corruption scandal which included several senior communist party officials who also lost their jobs.
The track is 5.451 km long and features one of the trickiest corners combinations on the Formula One calendar, comparable to that of Istanbul Park's turn 8, a track which was also designed by Hermann Tilke. Turn 1 and 2 are a very demanding 270-degree, right-handed corner combination that requires a lot of speed whilst entering and it tightens up towards the end. The shape of the circuit is made to look like the Chinese character "Shang" which means high or above, and there are also other echoes of traditional Chinese architecture, including the team buildings set on stilts in the lake.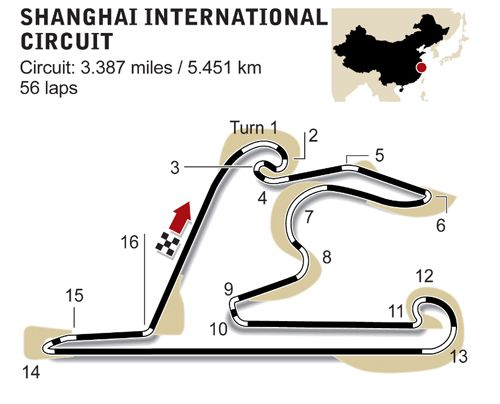 Circuit type: Race
Circuit Length: 5.451kms
Circuit Turns: 16
Circuit Direction: Clockwise
Capacity: 200.000
Established: 2004
Designer: Hermann Tilke
Chinese GP – Records and statistics
Wins (drivers):
HAMILTON Lewis 4
ALONSO Fernando 2
ROSBERG Nico 2
BARRICHELLO Rubens 1
SCHUMACHER Michael 1
RAIKKONEN Kimi 1
VETTEL Sebastian 1
BUTTON Jenson 1
Wins (teams):
Ferrari 4
Mercedes 4
McLaren 3
Renault 1
Red Bull 1
Lap Record: 1:24,125 min
Date: 7 April 2004
F1 Driver: Michael Schumacher
F1 Car: Ferrari F2004
Speed: 226,934 km/h
Record Pole: 1:23,529 min
Date: 26 March 2011
F1 Driver: Sebastian Vettel
F1 Car: Red Bull RB7 Renault
Speed: 228,553 km/h
Previous F1 GP Winners at the Shanghai International Circuit:
2016 Nico Rosberg – Mercedes
2015 Lewis Hamilton – Mercedes
2014 Lewis Hamilton – Mercedes
2013 Fernando Alonso – Ferrari
2012 Nico Rosberg – Mercedes
2011 Lewis Hamilton – McLaren-Mercedes
2010 Jenson Button – McLaren-Mercedes
2009 Sebastian Vettel – Red Bull-Renault
2008 Lewis Hamilton – McLaren-Mercedes
2007 Kimi Raikkonen – Ferrari
2006 Michael Schumacher – Ferrari
2005 Fernando Alonso – Renault
2004 Rubens Barrichello – Ferrari
2017 Chinese GP Race Timetable (local time):
FRIDAY 7th APRIL
First Practice Session 10:00 – 11:30
Second Practice Session 14:00 – 15:30
SATURDAY 8th APRIL
Third Practice Session 12:00 – 13:00
Qualifying Session 15:00 – 16:00
SUNDAY 9th APRIL
Grand Prix (56 Laps or 120 Mins) 14:00 – 16:00